Wouter Vosse
Netherlands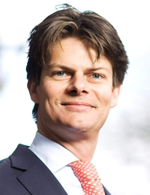 Hamelink & Van den Tooren
World Trade Center, H-Tower, 17th floor
Zuidplein 140
1077 XV Amsterdam
Tel: +31 20 333 92 80
Fax: +31 20 333 92 80
Email: wouter@hamelinktooren.com
Web: www.hamelinktooren.com
Wouter Vosse started his career in 2004 at a major Dutch law firm in the international tax practice. He was mainly based in Amsterdam but also worked in New York and in various Central and Eastern European countries, as part of assignments. In 2015, Wouter joined Hamelink & Van den Tooren as a partner.
Wouter advises on Dutch tax aspects of (domestic and cross-border) M&A transactions and (re)structuring of investments. He focuses on clients investing in or from the US and has a strong European client base. He also acts as day-to-day tax advisor to multinational groups with substantial operational activities in the Netherlands.
Wouter graduated in Tax Law and in Fiscal Economics, both from Maastricht University. He is a member of the International Tax Committee of the Netherlands Association of Tax Advisers (NOB) as well as the Tax Committee of the American Chamber of Commerce in the Netherlands.

Hamelink & Van den Tooren specialises in Dutch and international tax law. Our main areas of expertise are:
Hamelink & Van den Tooren is an independent tax law firm with the character of a tax boutique. The firm was founded in 1997 and has offices in Amsterdam and The Hague.
Hamelink & Van den Tooren provides high quality tax advisory and tax compliance services to its clients and offers them a personal and proactive approach.
The firm's clients typically consist of multinational, large and medium sized companies, investment funds, start ups and family offices.
Hamelink & Van den Tooren has an extensive informal network of leading law and tax law firms both in the Netherlands and abroad.

"Wouter Vosse handles a range of domestic and cross-border tax matters, including advising on restructuring and investment projects. One client notes: "Vosse has a keen understanding of the business, is creative and provides practical solutions for optimising tax implications."