Víctor Viana
Spain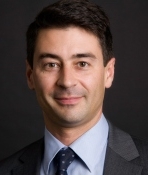 Uría Menéndez Abogados
Av. Diagonal, 514
08006 - Barcelona
Spain
Tel: +34 9158 64556

Email: victor.viana@uria.com
Web: www.uria.com
Víctor Viana is a lawyer  in the Madrid office Uría Menéndez. He joined the firm in 2000 and became a partner in 2008.
Víctor specialises in corporate tax law. He regularly advises on M&A, corporate restructuring transactions, real estate transactions and tax proceedings. During his professional career he has also advised on tax planning for both foreign investments in Spain and Spanish investments abroad. He has most recently advised:
shareholders on the sale of a leading transport group;
a leading Spanish insurance company on the sale of its Spanish subsidiary;
private equity groups on international investments;
clients from various sectors on sale and leaseback transactions;
developers on the construction and sale of shopping centres in Spain;
international groups regarding their real estate investments in Spain;
compensation boards (juntas de compensación) in major real estate developments;
clients on tax inspections, litigation and criminal offences.
Over the last few years, our lawyers from the tax practice area have mainly been involved in advising large Spanish companies on raising funds in capital markets. Our close collaboration with financial entities and other market agents has given rise to the design of innovative financial products that are now commonly used.
We advise our international clients on their investments in Spain, Portugal and abroad.
The problems and challenges arising from the application of international double taxation treaties, and in general, those relating to international company investment structures and business development, are issues that our lawyers handle on a daily basis.
We work directly with our colleagues from the Mergers and Acquisitions and Private Equity Practice Areas, and have extensive experience in M&A transactions, joint venture agreements, sales and purchases, takeovers, public share offers, IPOs, company restructurings (mergers, disposals, securities swaps, contributions of a branch of activity and others), project finance structures, and private equity.
We work very closely with the members of our Real Estate and Planning Practice Areas and have vast experience in the sale and purchase of real estate, the financing of real estate projects (including shopping malls, renewable energies and infrastructures), and all local taxation matters.

Founded in the 1940s, Uría Menéndez has since become one of the most prestigious international law firms. Our capacity for innovation, our profound analysis of the law and our unwavering respect for deontological ethics have all made Uría Menéndez one of the leading firms across the Iberian and Latin American markets.
We have almost 600 lawyers working in 17 different offices located in the most important financial centres in Europe, the Americas and Asia. We also make up part of the first ever major Ibero-American law firm, Philippi, Prietocarrizosa, Ferrero DU & Uría.
Uría Menéndez is there for its clients across the globe through its close ties with prestigious local firms. In addition, through our network of best friends in Europe we are able to create cross-firm teams with the leading firms from Germany (Hengeler Mueller), France (Bredin Prat), Germany (Hengeler Mueller), Italy (BonelliErede), the Netherlands (De Brauw Blackstone Westbroek) and the United Kingdom (Slaughter and May). Uría Menéndez is also a member of renowned international networks such as Lex Mundi.
"Víctor Viana has quickly come to be seen as a leading expert on tax issues arising in the real estate sector. "It is easy to get hold of him and he is very down-to-earth," says one client, while another notes: "He puts the case in a way that everyone can understand." Viana advised Goldman Sachs and TPG on the international tax planning of their acquisition of a significant loan portfolio from CaixaBank."