Simone Dias Musa
Brazil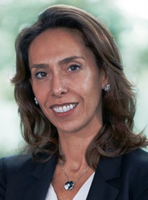 Trench Rossi Watanabe
Rua Arq. Olavo Redig de Campos
EZ Towers Bldg - Tower A
04711-904 - São Paulo
Tel: +55 11 3048 6814
Fax: +55 11 5506 3455
Email: simone.musa@trenchrossi.com
Web: www.trenchrossi.com
Simone Dias Musa is the Chair of Baker & McKenzie´s Global Tax Practice. She previously led the Latin America Tax Practice of Baker & McKenzie and the Tax Practice at Trench, Rossi e Watanabe Advogados, a Brazilian law firm that has a cooperation agreement with Baker & McKenzie.
Simone is the first female Global Chair in the history of Baker & McKenzie´s tax practice. Frequently praised for her practical advice, technical knowledge and creativity, she has received numerous awards for her professional achievements. She has been recognized by Chambers Global, Latin Lawyer and IFLR as a leading tax lawyer. Under her leadership, International Tax Review recognized the Firm with multiple Latin American Tax Firm of the Year Awards.
Prior to joining Trench, Rossi e Watanabe in Brazil, Simone worked as a tax lawyer in the Latin America desk of Baker & McKenzie´s Chicago Office, and began her career with a big four accounting firm in São Paulo.
Corporate tax law in Brazil is complex, constantly changing and often contradictory. Smart companies have an adviser who knows the rules, anticipates the risks and develops a proactive tax strategy.
It is inevitable that every large company in Brazil will someday be involved in some type of tax controversy, whether because of tax notices caused by divergent interpretations of the law, or because they are challenging the validity of some law in court.
Contentious advice may be necessary. Or you may simply need sound planning to help you avoid costly disputes.
The tax lawyers and professionals of Trench Rossi e Watanabe have deep knowledge, experience and understanding of Brazil's tax laws. They can help you apply them to reduce your company's risks, help ensure your compliance and maximize your position to the fullest extent possible. Our team studies your business to develop a customized tax solution. Our goal is to ensure that you pay only the taxes due – and nothing more.
Our team has expertise in tax planning and in administrative and judicial controversies. This combination gives you fast and efficient service, making the most of your time and legal budget.
Considered one of the largest law firms in Brazil, Trench Rossi Watanabe has a comprehensive and cutting edge operation,with expertise in all areas of law. Founded in 1959, the firm provides legal services to national and international clients across several markets, helping them to manage their business in an ethical and efficient way.
Through our strategic cooperation with Baker McKenzie, Trench Rossi Watanabe offers its clients access to a global perspective through one of the most extensive and solid networks of the legal market, working collaboratively with lawyers with deep knowledge in several jurisdictions, supporting and providing "insights" to our client′s operations, wherever and however they need it.
Trench Rossi Watanabe is over half a century old. We have extensive experience in complex and pioneering aspects of transactions and have developed skills that transcend borders, but always maintaining the accuracy in relation to technical quality, ethics and efficiency. With over 250 lawyers in São Paulo, Brasilia, Rio de Janeiro and Porto Alegre, we offer the knowledge and confidence needed to deal with the Brazilian law and unique business practices.
We emphasize the professional development of our lawyers, constantly investing in their professional improvement through specialized courses and the most diverse and innovative forms of training in Brazil and abroad. In addition to solid legal experience, our professionals accumulate fluency in several languages and knowledge of various cultures and legal systems in an effort to ensure service of the highest quality is provided to our international clients.
We have a dynamic corporative organization, dedicated to monitoring the changes in the legal field and anticipating solutions to our customers. We have an integrated and cutting edge administrative and technological infrastructure, in order to provide adequate support to our services. We are committed to responsive, efficient and reliable service, seeking to develop strong and lasting relationships with our clients.