Serafin U. Salvador, Jr.
Philippines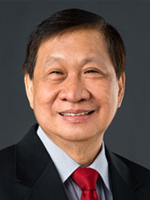 Salvador & Associates
815-816 Tower One and Exchange Plaza
Ayala Triangle, Ayala Avenue
Makati City 1226 Philippines
Tel: (632) 811-2500 / 811-1475
Fax: (632) 893-6987
Email: susalvador@salvadorlaw.com
Web: www.salvadorlaw.com
Prior to establishing Salvador & Associates in 2003, "Jun" was previously Head of the Tax Division of SGV & Co. (up to August 31, 2001), where he was also a Tax Principal. He had been with SGV & Co. for 30 years. SGV & Co. was previously affiliated with Arthur Andersen, and at present, is affiliated with Ernst & Young.
Atty. Salvador is a professor of Taxation in both the Ateneo and UP colleges of law. He is a graduate of UP Law Class 1968 and attended the Graduate Tax Program, 1970-1971 at the Graduate School of Law, New York University. He completed his Masters in Business Administration Program at the Ateneo de Manila University and attended the TOP Management Program, Asian Institute of Management, and the Managing Multinational Enterprises at the INSEAD, Fontainebleau, France.
Atty. Salvador specializes in taxation. Atty. Salvador is a past President of the Tax Management Association of the Philippines and has been a contributor to foreign publications, including the CCH Journal of Asia-Pacific Taxation. Until June 30, 2009, Jun served as a member of the United Nations Committee of Experts on International Cooperation in Tax Matters in accordance with Resolution 2004/69 adopted by the UN Economic and Social Council on November 11, 2004.
As the Philippines member of TAXAND, a global network of over 2,000 leading tax advisors, S&A can provide its clients with access to highly specialist and independent tax advice in nearly 50 countries.
S&A's tax practice includes tax advisory and planning, tax compliance, family wealth planning, and compensation planning, among others. Its tax advocacy practice includes the handling of tax audit and investigations and claims for refund of overpaid national and local taxes, including input value-added taxes. Although a relatively new firm, its tax cases alone already number close to 300 and involve billions of pesos. S&A represents its clients before various government agencies, such as the Bureau of Internal Revenue (BIR), the Department of Finance and the Securities and Exchange Commissions (SEC) as well as with the various courts in the Philippines, such as Regional Trial Courts, the Court of Tax Appeals, the Court of Appeals, and the Supreme Court.
S&A was voted the preferred tax counsel in the Philippines for 2008 as announced by ASIAN-COUNSEL, a Pacific Business Press Publication, in its July/August 2008 issue. S&A was also one of two Philippine firms included by the International Tax Review in its World Tax 2009, a comprehensive guide to the world's leading tax firms and tax advisers.
SALVADOR & ASSOCIATES (S&A) was established in 2003 by experts in tax and commercial law. In the short time S&A has been in existence, it has already been recognized as one of the leading firms engaged in tax practice in the Philippines. Its tax practice encompasses tax advisory and tax planning services, and tax advocacy and litigation, most of which are rendered to various multinational and top 500 companies in the Philippines.
S&A also has a vast commercial law practice comprising of special projects, such as mergers and acquisitions, corporate reorganizations, initial public offerings, and the structuring and financing of investments.
In addition to its four (4) partners, S&A has seven (7) senior associates and fourteen (14) junior associates, all of whom are highly qualified in the areas of taxation and commercial law. S&A currently has two Senior Consultants with expertise in Taxation and Immigration matters.
S&A's commercial law practice encompasses a wide variety of legal services including special projects in the areas of power and energy, mining, financing, mergers and acquisitions, foreign investments, and corporate reorganizations.
In addition, S&A offers services in the areas of immigration, intellectual property, litigation and labor law.

Serafin Salvador enjoys a very strong reputation in the market and is recognised for his comprehensive experience advising on a wide range of tax matters. He acts both for major international businesses and for domestic SMEs.