Osiel González Azócar
Chile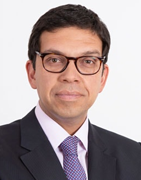 Bruzzone & González Abogados
Luis Pasteur 5280,
Vitacura, Santiago
Chile
Tel: +562 3275 4000

Email: ogonzalez@bruzzoneygonzalez.com
Web: www.bruzzoneygonzalez.com
In 2001 Osiel graduated from Universidad de Chile, Law School. He earned an MBA from Universidad Adolfo Ibañez and ESADE (Multinational Program). He worked for EY Chile between 2002 and 2018 where he was in charge of the Tax Consulting, International Tax and Tax Policy divisions. In 2016, he took charge of the Chilean desk at the EY LLP office in New York.
Osiel has been recognized by Best Lawyer, International Tax Review and Chambers and Partners in the area of tax law. He is currently in the board of the Tax Study Center (CET) of Universidad de Chile, being also a professor of Universidad Adolfo Ibáñez, in the Tax Management Masters Program, Universidad de Chile, School of Economics in the Tax Masters Program, and Universidad de Chile, School of Law in the Tax Masters Program.
Reorganizations
Mergers and Acquisitions
Funding
Indirect Taxes
Tax Compliance Strategic Planning
Audits and Controversies
Transfer Pricing
Tax Planning
Bruzzone & González Abogados is a law firm run by lawyers with extensive professional experience in the corporate and tax world. Its main partners have vast knowledge and expertise in advising large and multinational companies in Chile, as well as family offices.
Our firm was born as we understood the need to strengthen corporate and tax law synergies, enabling our clients to do business in a comprehensive manner, by taking care not only of the legal aspects, but also of financial, accounting and reputational aspects.
"Founding partner Osiel González focuses his practice on international tax matters, enjoying a solid reputation among market commentators. One impressed client asserts: "He is a committed and experienced lawyer."