Mikhail Orlov
Russia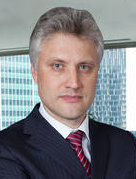 KPMG
Naberezhnaya Tower Complex
Block C 10 Presnenskaya Naberezhnaya
Moscow, Russia
Tel: +7 495 937 44 77

Email: MOrlov@kpmg.ru
Web: www.kpmg.ru
Mikhail has over 25 years of legal experience. His key areas of expertise include advising major companies across energy, automotive, logistics and retail sectors on tax matters, as well as supporting clients in tax related disputes.
Mikhail joined KPMG in 2010. Prior to that, he acted as Head of the Taxation Policy Department with the Russian Ministry of Economic Development and Trade, Deputy Director at the Foundation of International Institute for Development of Legal Economy, was a Partner at a well-known law firm.
Mikhail is one of the originators of Russian tax legislation: in 1998, he was part of a legal team working out the RF Tax Code. His legislative background is highly demanded as well. He extensively interacts with the Ministry of Finance of the Russian Federation and the Federal Tax Service, is a Chairman of the Tax and Customs Law Expert Council of the Russian State Duma.
Mikhail's direct involvement and efforts led to the introduction of the horizontal monitoring concept to the RF Tax Code, improvement of transfer pricing principles for intra-group transactions, and implementation of the beneficial owner disclosure rules. He takes part, as an expert, in the development and analysis of amendments to the RF Tax Code, including those related to oil and gas matters (tax incentives and benefits for Arctic projects, VAT, etc.).
His work and contribution were recognized by letters of appreciation from the President of the Russian Federation, Russian ministries, and other national governmental agencies and departments. Mikhail regularly ranks among the top Russian tax lawyers according to Best Lawyers, ITR World Tax and Legal500.
KPMG has been operating in Russia since 1990, and our goal has always been to use the firm's global intellectual potential, combined with the practical experience of our Russian professionals, to help leading companies to achieve their goals.
The KPMG Law team in Russia includes 50 lawyers and attorneys at our offices in Moscow and Saint Petersburg with local and international legal experience. Our team includes PhDs in law and lawyers who both qualified and were admitted into practice in the United States and in England.
We provide audit and advisory services on tax and financial issues to major Russian and global companies and to a broad range of non-governmental organizations and financial institutions. KPMG lawyers work closely with our experts in taxation, business restructuring, audit, risk management (compliance & forensic), and management consulting.
We have direct access to KPMG Law's international network that covers than 60 jurisdictions and provides international legal solutions to our global clients as they engage in cross-border projects.