Marco Abramo Lanza
Italy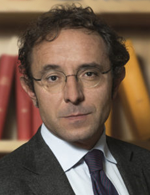 Studio Legale Biscozzi Nobili Piazza
Corso Europa 2
20122 Milano
Italy
Tel: +39 02.7636931
Fax: +39 02 76369345
Email: marco.lanza@slta.it
Web: www.sbnp.it
Marco Abramo Lanza graduated in Economics cum laude in 1997 at Università Cattolica del Sacro Cuore di Milano. He has been enrolled in the Register of Chartered Accountants of Milan since 2000 and a registered auditor since 2002.
Marco joined the Firm in 1998 and became a Partner in 2005. He specialises in International Tax Law, Real Estate Taxation, Tax Litigation and M&A.
Marco is a frequent speaker at international taxation seminars and the author of various publications. He is a member of the International Tax Law Committee of the Milan Chartered Accountants Association.

Studio Biscozzi Nobili Piazza provides tax advisory, including assistance for compliance in indirect and direct tax, tax filings and financial statements, predisposition of opinions in various tax matters and due diligence.
Studio Biscozzi Nobili Piazza also provides assistance in tax litigation includes the relationship with the Revenue Agency, specifically it deals with:
tax refund requests;
ruling ("interpello") for legal advice;
ruling ("interpello") for the non-application of specific rules.
Tax lawyers also assist clients in pre-litigation (settlement), litigation (judgment before the Tax Commissions and in the Cassation), as well as to manage infringement procedures in the EU.
Studio Biscozzi Nobili Piazza is an Italian law firm specialized in tax law, corporate law and financial statement analysis.
The tax law firm was born from a spin-off, dated back to the late 70s, from the tax department of one of the major American auditing companies (PeatMarwick); the corporate department dates back to the late 50s, thanks to Prof. Nobili, founder of the law firm.
The law firm through a constant growth in size has reached the current structure composed of about fifty professionals, thanks to the integration of the tax and corporate department (1998).
The firm operates in the form of a professional association, and is characterized by independence and autonomy; traditionally offer consulting services for both domestic and international cases, joining, where required, of a network of foreign correspondents.
The firm is highly recognized as a reliable partner for a multidisciplinary approach and with a particular focus on Italian businesses who want to grow and develop abroad and on foreign entities doing business in Italy.
"Boutique active in tax audits and disputes concerning a variety of issues, including patent box matters. Provides support in transfer pricing, M&A transactions and the taxation of capital markets activities."