Luisiana Dobrinescu
Romania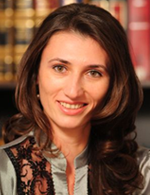 Dobrinescu Dobrev SCA
Intrarea Roma nr. 7
011772 București S1
Romania
Tel: +40.723.000.497
Fax: +40.318.167.314
Email: luisiana@dobrinescudobrev.ro
Web: www.dobrinescudobrev.ro
I am a graduate of both the Law School (Bucharest University) and of the Accounting and Management School (Titu Maiorescu University).
With a 12-year experience in fiscal practice, I specialzed in tax consultancy, assistance throughout the fiscal inspection, assistance in drafting and submitting contestations of the fiscal solutions and legal representation in fiscal litigation.
My predilection and professional passion is the value added tax (VAT) and the fiscal procedure.
I frequently participate as a speaker in tax conferences and workshops, and have authored numerous online press articles, most of which are being republished in the Romanian articles sectionof our website.
My Previous Experience:
Biriș Goran SCA, Senior associate,  2007 – 2012 (direct and indirect taxation, assistance and representation in the fiscal inspection, fiscal contestations)
Finconta SRL, jurist, 2001 – 2007 (fiscal procedures, legal advice for financial audit and accounting survey)
Our services in tax matters begin with day-to-day tax advice, continue with assistance and representation during the fiscal inspection, and complete with legal representation in front of the judicial courts (romanian and european) in fiscal trials.
Tax advice and fiscal procedures
On fiscal matters our services cover most of the relevant areas of interest: profit tax, non resident income taxation, VAT, excise and local taxes.
Our advice assures our client's conformation with both romanian and european fiscal rules. Due to our constant implication in assistance with the fiscal inspections, we are always knowledgeable with the latest practice of the authorities and their particular view on certain detail matters. From both perspectives (the theoretical as well as the field view) we are in best position to analyse the exposure of our clients to potential fiscal risks, and therefore may suggest optimal structures of their activity.
Legal and fiscal structuring
structuring in view of takeover of the participants or in view of their reorganisation (transfer of activity, transfer of assets, mergers, acquisitions, split-ups, share dealing)Structurare în vederea tranzacționării participațiilor sau a reorganizării (transfer de activitate, transfer de active, divizare, vânzarea participațiilor etc);
VAT structures (optimization solutions for the effective VAT payments to the state budget – e.g. reverse taxation, limitation of the inpact of VAT offsets etc.);
structuring with a view on the profit taxatoin, dividend distribution (permanent residence, branches and subsidiaries, independent contractors etc);
optimal tax structuring applicable to personal incomes (labor contracts, civil conventions, independent activities and liberal professions etc);
financing structures with a view on acquisition of companies or real estate in Romania.
Early assistance in fiscal inspection. Fiscal revisions. Identification of fiscal risks.
As a general rule, this kind of services turns out to be optimal and much appreciated by the clients, not only in terms of efficience, but also in terms of costs. Saving the client's tax money by legal tax evasion is our main concern and the client's ultimate benefice.
Tax reviews and tax audits are particularly useful for the investors as they may conclude on prospective risk assessment while taking over an already established business.
Assistance while on fiscal inspection
On fiscal matters, the taxman is the first judge of a contributor's business, just as the fiscal authority is his most exigent "shareholder". We offer to mediate, assist and represent our client throughout fiscal inspection, thus doing our best to prevent any procedural abuses, errors or deviations from the fairest possible treatment a contributor is entitled to receive.
Here are some of the most important issues we encountered during the fiscal inspections we attended to:
carousel fraude, VAT scam suspicions (leasing companies);
recalification of intelectual property revenue, as dependent work and salary payment (media corporations);
VAT refunding in real estate and agriculture activities;
real estate transactions peformed by natural persons in 2005-2010;
asocieri în participațiune.
Fiscal litigation
Being knowledgeable on both material taxation as well as fiscal procedures, we legally represent our clients in front of fiscal tribunals, romanian and european. Cunoscând atât dreptul fiscal material, cât și procedura fiscală, ne reprezentăm clienții în fața instanțelor de contencios administrativ fiscal, române și europene. Ionuț Dobrinescu and Dumitru Dobrev  have, respectively, 15, and 13 years of experience as pleading lawyers and in cases they pleaded there created precedents which incurred important legislative modifications (such as the nominal fiscalization of the social contributions within the terms of the Fiscal Code, the extention from 1 to 5 years of the period when one may apply for the correction of the material errors in fiscal instruments).
We put to good use our experience as litigation in providing our clients with reliable preemptive legal and fiscal advice.
Assistance in the management of other administrative and fiscal procedures
VAT refunding (UE and Romanian);
tax restitution (including withholding taxes for dividend or capital incomes);
correction of material errors from payment instruments and fiscal statements;
debt reschedulling procedures;
fiscal debt compensations;
procedures for fiscal credit granting;
tax exemption procedures (e.g. exemptions from local taxation for NGOs and industrial parks).
Tax workshops
Given that the romanian fiscal legislation is under constant modification, our early warning workshops enable our clients to update their reporting systems by keeping them in line with the latest legal requirements. We either organize or participate to tax workshops, conferences or tax forums, as hosts or lectors where our clients are eligible for front seats.
Tax due diligence and tax reviews
We perform tax audits, due dilligenge and tax review on our clients, by special request of certain investors eager to acquire stakes in romanian companies or for some business owners who have a particular interest to have their fiscal risks thoroughly evaluated and receive early warning.
Dobrinescu Dobrev SCA is the name under which we chose to unite in 2012 our knowledge and experience in several fields of law, in such a way as to offer our clients innovative and effective legal services.
We, Luisiana Dobrinescu, Ionuț Dobrinescu and Dumitru Dobrev, are the founding associates, each with an experience of more than 12 years in the business law.
We are old friends and our friendship is the first gift we extend to our clients.
At our office in Victory Square you will meet a team of well trained lawyers, with imagination and flair, eager to turn knowledge into winning strategies. We try a flexible approach on each and every case, we do our best to think efficiently, pragmatically and unexpensively. We practice with passion the Justice and the Law, and we reckon this transpires in the results of our work, despite the imperfections of the judicial system.
We believe in authenticity and in the power of the moral example. We take chances, we rely on courage and believe in the lawyer's civilized contribution to the business environment.
We are particularly fond of the fiscal and commercial law. We offer tax advice, assistance in the fiscal inspection, we plead in civil litigation, administrative and fiscal trials and we may proudly represent you in relation with the fiscal authority.
"Sources admire Luisiana Dobrinescu's "creativity in problem solving" and that "she is so passionate in her work; she loves undertaking challenging projects." Clients also appreciate her calming style, saying: "Even when we have an important problem she will give a solution that is helpful and reassuring." Dobrinescu leads the firm's contentious VAT, tax investigations and advisory mandates."