Guillermo Villaseñor Tadeo
Mexico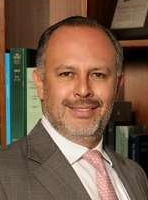 Sánchez DeVanny Eseverri, S.C.
Paseo de las Palmas 525 6th Fl
Col. Lomas de Chapultepec
11000 Mexico City
Tel: +52 (55) 5029-8521
Fax: +52 (55) 5029-8501
Email: gvillasenor@sanchezdevanny.com
Web: www.sanchezdevanny.com
Guillermo has more than nineteen years of experience in tax planning, including taxation of corporate restructuring transactions, mergers, acquisitions, and general tax advice, especially for business and multinational groups with operations in Mexico where he provides advice to achieve fiscal efficiency and provide assistance in developing tax policies for ongoing operations.
His experience extends to transfer pricing, including the legal analysis of the implementation of policies, documentation and elaboration of economic studies and defense files to protect companies against potential tax investigations. Guillermo has represented different industries before the Mexican Judiciary through constitutional ("amparo") proceedings to contest the creation or amendments of tax laws that produce relevant economic negative effects, achieving tax refunds and the protection to future payments. He has also assisted multinational companies in complex cross-border tax litigation, in transfer pricing adjustments, cost-sharing arrangements, multinational restructures, and potential re-characterization of intercompany payments being able to successfully defend cases in the investigation stage or to reduce potential liabilities before contesting deficiencies before the Federal Tax Court.
Guillermo is a member of the firm's Energy Task Force, a group that includes practitioners of different law practice areas specialized in advising clients of the energy sector. Within the Energy Task Force, Guillermo specializes in tax laws affecting the energy sector.
Prior to joining Sánchez Devanny, Guillermo was a partner at an international law firm where he was responsible of the tax litigation group, nationwide and lead tax counsel in different M&A transactions.

Federal and local tax optimization for new or existing operations and expansion projects.
Tax planning for acquisitions and divestitures.
Advice on national and international corporate reorganizations.
Application of international treaties to tax matters.
Advice on transfer pricing, including planning, consulting, and defense.
Tax planning for intangibles and e-commerce.
Tax efficient financial planning and derivatives.
Advice on private letter tax rulings.
Lobbying regarding tax initiatives before federal and local government administrations and Congress.
Advice and defense in federal and local tax audits.
Tax litigation at all levels against tax determinations (taxes, fees, surcharges, interests, encumbrances) made by the federal, state and municipal authorities.
Constitutional protection (amparo) lawsuits against laws or acts of authorities considered unconstitutional (i.e., encumbrances or tax audit visit orders).
Litigation against assessments issued by the Social Security (IMSS) and Mandatory Employee Housing (INFONAVIT) authorities.
Administrative litigation at all levels before administrative and judicial authorities whether federal, state or municipal.
"Partner Guillermo Villaseñor Tadeo is active across the transfer pricing and litigation fields, handling contentious mandates against the Mexican tax authorities on behalf of multinational clients, as well as tax audits. Clients single him out for praise, saying: "You can discuss anything with Guillermo, and if he isn't an expert in that particular area, he can refer you to someone who is."