Sumet Mingmongkolmitr
Thailand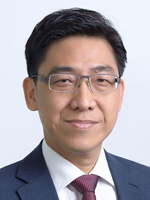 Blumenthal Richter & Sumet
Abdulrahim Place (31st Floor)
990 Rama 4 Road
Bangkok 10500, Thailand
Tel: +662-022-1000
Fax: +662-636-3377
Email: sumet@brslawyers.com
Web: www.brslawyers.com
Mr. Sumet Mingmongkolmitr is a founding member and senior partner of BRS. He has led the firm's Tax & Customs department through years of successive growth, and has been central to BRS establishing itself as one of the foremost independent providers of tax and customs legal advice and guidance in the region.
Sumet specializes in legal services in connection with foreign investment, tax and customs and commercial matters in Thailand. He advises regional public and private enterprises and local high-net-worth individuals on a wide range of projects, including capital markets and securities regulation. He has extensive knowledge of bilateral agreements entered into by the Thai government for the avoidance of double taxation, as well as the prevention of fiscal evasion with respect to taxes on income. Sumet is widely revered for his comprehensive understanding of the application of the General Agreement on Tariffs & Trade (GATT), especially those provisions concerning valuations for customs purposes.
Sumet has represented multi-national companies in lobbying various Thai authorities on, inter alia: foreign investment approvals and other insurance and regulatory matters; legal due diligence inquiries; structuring, negotiating and documenting international joint ventures; acquisitions; and obtaining Board of Investment promotion for foreign companies doing business in Thailand. He has wide-ranging experience of dealing with Thai administrative agencies, including but not limited to the Ministry of Commerce, Land Department, Board of Investment, and Labour Department.
Sumet received his LL.B. and M.B.A. from Chulalongkorn University, and is a member of the Law Society of Thailand and the Thai Bar Association.
BRS's Tax & Customs department, led by founding member and senior partner Mr. Sumet Mingmongkolmitr, has established a reputation for innovative tax planning in Thailand, and specializes in tax issues relating to foreign investment and offshore tax structuring.
Sumet runs an extremely diverse practice and provides counsel on corporate tax, VAT matters, transfer pricing, joint venture taxation issues, as well as international tax treaties. He is regularly asked to advise on tax issues relating to foreign investment, along with suitable offshore structures for outbound transactions, and is a reference point for high-net-worth individuals and multi-national corporations regarding their tax operations in Thailand.
A large number of the firm's tax and customs clients are corporations that are engaged in the business of importing and exporting various types of products, and its legal services range from: applying for consultations on tariff codes before importation; representing clients in discussions with customs officials in post-importation audit assessments; defending against incorrect tariff assessments and other allegations made by customs officials; to assisting clients with post-importation issues, such as applying for the return of duty and requests to pay additional duty. Its practitioners are regularly called upon to interpret and classify tariff codes and to challenge decisions by customs officers regarding items of conflict.
Established in 1976, BRS is a Thailand-based independent law firm that operates to international standards of ethics, best practice and business conduct. The firm provides multi-jurisdictional perspectives to a diverse and prestigious global client base, and advises on corporate and commercial matters and cross-border financial transactions and investment projects in Thailand and the ASEAN region.
The firm is the exclusive Thailand representative of INTERLAW, the preferred law firm network for companies doing business internationally. With more than 5,000 attorneys in 125 cities worldwide, INTERLAW is ranked as a Band 1, "Elite Law Firm Network" and provides BRS with access to specialist legal practitioners in every major worldwide jurisdiction.
BRS has been consistently ranked as a "Leading Firm" by the legal profession's foremost independent directories, including Chambers Asia Pacific and The Legal 500. Individual departments and partners have been recognized year on year by both legal publications for successfully representing their clients' interests and for the ongoing quality of their expertise, including Corporate/M&A, Dispute Resolution & Litigation, Real Estate & Construction, Tax & Customs, and Tech-Media-Telecoms.