Pedro Guilherme Accorsi Lunardelli
Brazil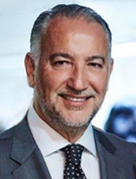 Advocacia Lunardelli
Rua Samuel Morse, 134, conj. 172
CEP 04576 060
Brooklin Novo, São Paulo, Brazil
Tel: (55 11) 4095-4702

Email: pglunardelli@advocacialunardelli.com.br
Web: www.advocacialunardelli.com.br

Advocacia Lunardelli is specialized in Tax Law, duly registered at the Brazilian BAR Association, State of São Paulo Chapter (OAB/SP), since 1995, under the No. 02811, comprising a team with extensive qualification and experience in this field of law.
Our team is divided into the following units: (I) Administrative and Judicial Litigation and (II) Advisory. By dividing our teams in different units, we are following a trend in the industry, which is to have more and more specialized professionals.
By doing so, we keep a close relationship with our clients, sending them up-to-date technical information in relation to the matters that are under the responsibility of the firm.
The firm invests in the continuous training of its professionals and in state-of-the-art technological resources. We currently have partnerships with firms specialized in the field of corporate law.
The union of such characteristics makes the firm an excellence center for the performed legal works, recognized by the constant retainer of large and mid size companies, including world wide multinational companies.
"Very active" name partner Pedro Guilherme Accorsi Lunardelli earns praise for his advisory and contentious work, as market commentators point out: "He is seen dealing with indirect taxation matters such as ICMS, IPI and ISS." He regularly provides advice to national and international companies from various sectors. A client declares: "I fully trust him because of his incredible technical quality. I also really like that he offers agile, objective and logical advice."