Patrick Smet
Belgium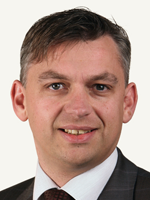 Allen & Overy LLP
Tervurenlaan 268A
Brussels 1150
Belgium
Tel: +32 2 780 24 31
Fax: +32 2 780 2222
Email: patrick.smet@allenovery.com
Web: www.allenovery.com
Patrick is the head of the Belgian Tax practice. He specialises in M&A tax, financial tax, incentives tax, tax dispute resolution and tax risk management.
He is the author of a manual on Belgian withholding tax and published numerous articles in national and international tax reviews. He regularly lectures on tax related topics and is a director of the International Fiscal Association's executive committee, Belgian branch.
Patrick is consistently recommended by several independent legal directories.

Our clients require a seamless, multi-jurisdictional tax advisory service, whether on a stand-alone basis or as an integral part of the full legal service offered by Allen & Overy.
That's why, with over 100 tax specialists across our international network, we are able to offer both domestic and cross-border advice wherever our clients need it, whether they are financial institutions, corporate entities, or funds.
The depth and breadth of our knowledge ensures that we are able to support our clients' business needs successfully and provide high quality, innovative tax solutions in the increasingly complex area of tax legislation and practice

At a time of huge change in the legal industry, we are determined to continue leading the market as we have throughout our 83-year history.
We'll do that by staying one step ahead and by constantly challenging ourselves to bring new and original ways of thinking to the most complex legal challenges our clients face.
Over the past year we have worked with some of the world's most sophisticated businesses on market-leading transactions that have changed their industries. This includes, advising on the largest oil refinery project in Vietnam (Nghi Son) and the joint venture between H.C. Starck and Vietnam's largest private sector company, Masan Group; the ground-breaking creation of Abu Dhabi's first Financial Free Zone, the Abu Dhabi Global Market; and representing Novartis in its successful patent battle with MedImmune over Novartis's blockbuster drug Lucentis – to name just a few achievements.
We are able to build on the foundations of our long heritage to attract the most talented people and develop the high-performance culture necessary to innovate and change the face of business.
Our commitment to help our clients deliver their global strategies has seen us build a truly global network now spanning 46 offices in 32 countries. We have also developed strong ties with relationship law firms in more than 100 countries where we do not have a presence.
This network has allowed us to become one of the largest and most connected law firms in our peer group with a global reach and local depth that is simply unrivalled.
So when we talk about global coverage, we're not just talking about having offices in some important cities around the world. We mean being able to combine our international resources and sector expertise to work on cross-border transactions directly in the markets and regions important to our clients.

"Patrick Smet is highly regarded for tax litigation matters. Clients enthuse: "He is up there as one of the best – he can translate the law into practical specifics, is commercial and can negotiate well." He recently advised Van de Velde on the tax aspects of the restructuring of its US business."