Miguel Durham Agrellos
Portugal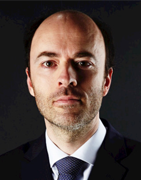 Durham Agrellos Advogados
Avenida da Boavista, 3265, 3rd
4100-137 Porto
Portugal
Tel: +351 226 167 260

Miguel Durham Agrellos has been active in the legal industry in tax advisory for almost 19 years. Based in Portugal, Miguel divides his time between the two major cities – Lisbon and Porto. He also advises overseas clients on a regular basis.
Before creating Durham Agrellos, for almost 14 years Miguel headed the Oporto Tax and Private Client department of Uría Menéndez law firm. Previously he worked as an Associate with a major Portuguese law firm, Vasconcelos, F. Sá Carneiro, Fontes & Associados and worked as a Tax Consultant to Jerónimo Martins Group, the major and most successful Portuguese retail group with relevant operational activity in Portugal and abroad, namely in Eastern Europe and Central America. Miguel focuses on wealth management, international tax and inheritance planning, corporate restructuring and tax litigation and arbitration.
Miguel has a wealth of experience in advising family-owned groups, in particular exporting companies, ultra and high-net-worth individuals and families, and banks with private banking operations, family offices and asset managers. He frequently advises multinational groups operating in Portugal.
Miguel is a tax arbitrator of the Portuguese Administrative and Tax Arbitration Centre and lectured at the Porto Business School of the Catholic University of Portugal. He frequently writes articles on tax issues and regularly speaks at conferences.
Miguel has a law degree from the Catholic University of Portugal (Porto, 1998), a Postgraduate degree in Management from the same University (Porto, 1999) and a Postgraduate degree in Tax Law from the Business & Economics School (Lisbon, 2003).
Durham Agrellos was founded in 2017 and was born from the desire to implement a differentiated legal advisory project, starting in Portugal.
We are lawyers with a special focus on sensitive and complex issues in the field of tax law and the monitoring of private clients.
We provide advice on matters related to the management and tax planning of businesses and assets. We have relevant experience in providing legal advice to family groups, namely in matters of succession planning. We also represent our clients in highly complex tax disputes. We work closely with our customers and their local or international consultants. We provide advice on matters of origin or with connection to the Portuguese market, coordinating issues related to other jurisdictions with local consultants.
We put our experience at the service of our clients' needs, offering solid, innovative and creative legal solutions on particularly complex issues. We have adopted an institutional model of low leverage and high specialization, to guarantee a rigorous and personalized monitoring that ensures that all hours dedicated to our customers are reflected in effective value creation.
We believe that the solidity of the legal solutions we present requires a constant effort to update and deepen the lawyers' knowledge. Therefore, we bet on your continuous training.
The presence in the Academy of our lawyers reflects a genetic institutional value of the Society. We demand a culture of maximum rigor, work and a sense of responsibility.
"Miguel Durham Agrellos of Durham Agrellos is singled out for his "very precise and objective" approach to tax mandates. His expertise includes international taxation matters, VAT and succession planning, as well as support in arbitration proceedings."