Juan Carlos Peñafiel Revelo
Ecuador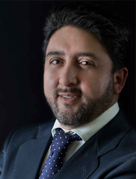 Flor & Hurtado
Av. 12 de Octubre N26-48 y Av. Orellana
Edificio Mirage Piso 8
Quito, Ecuador
Tel: (+593) 9927 66637

Email: juancarlos.penafiel@fhlegal.ec
Web: www.fhlegal.ec
Juan Carlos Peñafiel Revelo is partner with Flor & Hurtado specialising in tax law.
Juan Carlos graduated as an attorney at the Pontifical Catholic University of Ecuador and then obtained his juris doctor degree. He obtained a tax attorney degree from Universidad Andina Simón Bolivar, a tax law degree from Salamanca University, Spain, and a master's degree in law and tax law also from Universidad Andina Simón Bolivar.
Prior to joining the firm, Juan Carlos was a senior associate at Bustamante & Bustamante and also worked at the Internal Revenue Service in its different departments, starting at the claims department and then ultimately at the legal tax department.
Relevant Experience:
Exercise of the tax profession since 2000.
Legal analyst of administrative claims related to income tax, value added tax (VAT), excise tax (ICE), tax on vehicle registration, among others.
Tax Attorney before the District Tax Litigation Tribunal and before the Supreme Court of Justice in the contentious tax procedures of actions that question administrative resolutions and direct actions
Comprehensive advice on tax matters, with the practice of services such as Tax Planning, Due Diligence, Tax Recovery, sponsorship in tax litigation before administrative litigation and judicial litigation, sponsorship in tax constitutional actions, international tax advice, among others.
Successful sponsorship in a trial that culminated in the saving of approximately 60 million dollars in tax litigation, through which the claim of the oil company was accepted. This sponsorship challenged the fiscal redeterminations practiced by the SRI in 1998, 1999 and 2000.
Successful sponsorship in a trial that culminated in the saving of US $ 7,580,004.28 in tax litigation, through which a lawsuit against the determination of a 1.5. for every thousand tax on total assets (municipal taxes) was accepted.
Recovery of taxes for companies related to the technology, advertising, energy, hydrocarbon and textile industries, among others, for improper payments, payments in excess of income tax, VAT tax credit, special consumption tax, taxes about payments made abroad by locals. Companies that could not benefit directly from international agreements to avoid double taxation (CDI)
Precursor in the return of the advance payment of the income tax due to unforeseen circumstances.
We have one of the most competent teams in the country in tax matters. Our team comes counts on a multidisciplinary background and has experience working in both the public and the private sphere. We focus on meeting the needs arising from the control exercised by tax authorities, by means of providing preventive advice on the follow-up and the execution of the tax recommendations provided. Our main services are:
Comprehensive advice on tax matters: legal, financial, accounting.
Tax litigation in internal, customs and municipal taxes: Tax Court, National Court of Justice and Constitutional Court.
Tax planning: financial analysis, tax efficiency and reduction of contingencies, from the creation of the company to business design and fiscal closure.
Due Diligence report on financial-tax matters.
Tax refund: undue, excessive payments, tax credit.
Administrative claims (Taxation authority, CUSTOMS and municipalities) and administrative procedures in general.
Advice on transfer prices and international taxation.
Advice on implementation and administration of IFRS.
Accounting-financial expertise in tax and customs matters.
Review and control of compliance with tax obligations.
Simulation of audits of the Tax Administration to establish potential risks.
External financial management for new and medium companies, generation of financial information for decision making.
Accompaniment during IRS determination processes (audit or management)
We are a dynamic and innovative firm, whose members have extensive experience in assisting corporate and individual clients who do business and have investments in Ecuador. We seek to accompany our clients in the successful achievement of their objectives and in legitimate defense of their rights in the event of contentious proceedings.
We are efficient, proactive, committed, direct, and we have the experience and knowledge required to meet your needs and act in the most complex circumstances.