Davide Attilio Rossetti
Italy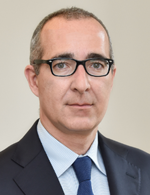 Morri Rossetti e Associati
Piazza Eleonora Duse, 2
20122 Milano
Italy
Tel: +39 02 76 07 971
Fax: +39 02 76 07 972
Email: Davide.Rossetti@MorriRossetti.it
Web: www.morrirossetti.it
Davide is Head of the Tax Advisory, Tax Compliance and of Corporate Governance Services departments of Morri Rossetti. He is also an expert in corporate governance and sits in the Board of Statutory Auditors and in the Supervisory Board of important Italian and multinational companies.
As for his academic career, Davide graduated in Business Administration at Bocconi University in Milan, after graduating from an American High school. He attended a master in International Accounting Standards (IAS/IFRS) and gained his professional experience at the Firm affiliates of PWC and Deloitte.
Because of his professional experience, Davide has been included in the prestigious 2019 Europe Guide by Chambers and Partners in the Tax ranking as "Recognised Practitioner".
He is also author of many tax publications for the group IPSOA – WKI.

Morri Rossetti has a significant and recognized experience in all national and international taxation areas.
The Firm offers its expertise in fiscal and tax matters for the planning and fulfilment of all types of corporate transaction (ordinary or extraordinary), real estate transactions or acquisition or sale of shareholdings, as well as for the reorganization and restructuring of companies and groups.
Morri Rossetti provides support for fiscal aspects related to: issuance of financial instruments, offerings of debt and equity securities, establishment of mutual securities and real estate investment funds, generational handovers and asset management referring to residents and non-residents on Italian territory.
Morri Rossetti's strenght consists of its large number of qualified tax professionals, who draw on their skills and different areas of specialization to provide an integrated service and assist the client in compliance with tax regulations. The service is designed both to support the business functions delegated by the client for management of tax profiles and to ensure services in total or partial outsourcing.
The Firm's Tax Advisory Department has received, also recently, several awards from prestigious Italian and international research centres (Legal500 – Leading Firm EMEA from 2016 to 2019, Toplegal Guida Tax 2019).

Morri Rossetti is a tax and law Firm that combines the accurate, flexible and customized service typical of 'boutique Firms' with the working standards and methods used by large professional networks.
The Firm assists listed companies, multinationals, family-owned business, asset management companies and financial intermediaries, as well as private clients, often supporting entrepreneurs and real estate portfolios in intergenerationals transfers or in sale transactions.
While continuing to maintain its independence, Morri Rossetti has strengthened international relations with other prestigious law Firms, for cooperation in various specific transnational cases. The Firm has strong relationships with foreign chambers of commerce (USA, Germany) and it is affiliated to international networks such as IAPA International, Eurojuris International and UIA.
Morri Rossetti supports its clients in ordinary business, but also in delicate and more complex issues, always delivering the most suitable solution.The versatile organization and its professionals' capacity to collaborate, gives it a natural flexibility to meet the Clients' needs with both efficient and creative solutions.