Hennadiy Y. Voytsitskyi
Ukraine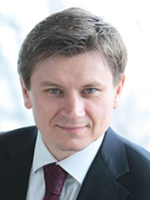 Baker & McKenzie
Renaissance Business Center
24 Vorovskoho Street
Kyiv, Ukraine
Tel: +380 44 590 0101
Fax: +380 44 490 6787
Email: hennadiy.voytsitskyi@bakermckenzie.com
Web: www.bakermckenzie.com
Hennadiy Voytsitskyi heads Baker McKenzie's Tax Practice Group in Kyiv, which was named Ukraine Tax Law Firm at the International Tax Review's 2016 European Tax Awards. He has more than 20 years of experience practicing in Ukrainian and international tax law.
Mr. Voytsitskyi is named among the best legal professionals by Legal Experts Europe, Middle East & Africa 2012-2015, one of the leading practitioners of tax law by Legal 500 Europe, Middle East & Africa 2011-2015, and among the Leading Individuals 2012-2015 Band 2 according to the Chambers Europe 2012-2015. He is among the top 100 tax lawyers in Ukraine according to Client's Choice 2010-2015, based on a Yurydychna Gazeta survey of in-house counsel from 2,000 major companies in Ukraine. Mr. Voytsitskyi participated in a working group led by the National Bank of Ukraine on development of draft legislation for the introduction of controlled foreign companies and implementation of BEPS Actions.
Mr. Voytsitskyi focuses his practice on providing sound legal advice to multinational and domestic clients on international tax planning and tax structuring matters, including cross-border inbound and outbound investment, tax controversy and litigation and wealth management concerns. Most recently, he has been heavily involved in advising clients on strategy negotiations and appealing against decisions and other acts and inquiries of tax authorities and tax police, including participation in litigation against tax authorities and tax police.

Governments worldwide are aggressively pursuing additional revenue, and crises-related restructurings pose new and difficult challenges for tax planning and dispute resolution. At Baker & McKenzie, we understand the business and legal intricacies of international taxation and have an unmatched ability to design, implement and defend international tax planning structures.
We are the most highly rated and recommended tax adviser among law firms, recognized worldwide as thought leaders in direct and indirect taxation, transfer pricing, and dispute resolution. Our more than 900 lawyers, economists and advisers in over 40 countries are in touch with changing tax laws, practices and dispute resolution techniques and can help design, implement, and defend tax strategies for international operations and transactions.
We have served as trusted tax counsel to many of the world's largest public companies for more than five decades. Unlike accounting firms, we have experienced tax litigators who can represent clients in all phases of tax dispute resolution. We have handled large tax controversies at the audit, appeals and trial court levels in many countries and have successfully litigated some of the largest tax disputes on record.
Baker & McKenzie defined the global law firm in the 20th century, and we are redefining it to meet the challenges of the global economy in the 21st .
We bring to matters the instinctively global perspective and deep market knowledge and insights of more than 11,000 people in 77 offices worldwide. We have a distinctive global way of thinking, working and behaving – "fluency" – across borders, issues and practices.
We understand the challenges of the global economy because we have been at the forefront of its evolution. Since 1949, we have advised leading corporations on the issues of today's integrated world market. We have cultivated the culture, commercial pragmatism and technical and interpersonal skills required to deliver world-class service tailored to the preferences of world-class clients worldwide.
Ours is a passionately collaborative community of 60 nationalities. We have the deep roots and knowledge of the language and culture of business required to address the nuances of local markets worldwide. And our culture of friendship and broad scope of practice enable us to navigate complexity across issues, practices and borders with ease.
"Top-ranked Hennadiy Voytsitskyi is particularly recommended for international tax issues, acting for multinationals on cross-border tax planning and structuring as well as on litigious tax cases. Clients value his experience of handling tax-related criminal issues."