Charles Waweru Gatonye
Kenya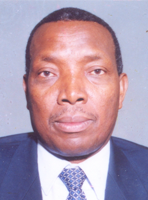 Waweru Gatonye & Co. Advocates
4th Flr Timau Plaza
Argwings Kodhek Rd
Nairobi, Kenya
Tel: +254 (20) 2428452/3/4
Fax: +254 (20) 2428450
Email: charles@wawerugatonye.co.ke
Web: www.wawerugatonye.co.ke
With over 30 years of experience, founder of the firm & Senior Partner Mr. Charles Waweru Gatonye is widely regarded as a "high-class and outstanding lawyer" in his field of commercial litigation. He graduated from the University of Nairobi in 1974 with L.L. B (Honours). He is also an advocate having worked in the office of the Attorney General and rose to become a deputy to the then Director of Public Prosecutions.
He is a member of the Law Society of Kenya, the National Advocates' Disciplinary Committee, East Africa Law Society, international Commission of Jurists as well as the International Chartered Institute of Arbitrators. He is also a Certified Public Secretary. He has had the singular honour to be appointed by His Excellency the President of Kenya as an Assisting Counsel to the just concluded Goldenberg Inquiry investigating the loss of billions of shillings of public funds.
Mr. Gatonye was also appointed by the Central Bank of Kenya as lead counsel to the Commission of Inquiry into the sale and transfer of the Grand Regency, (the Kimunya Commission).
He has a lot of experience in court work and has litigated at the highest levels in our country. Some of the big litigations Mr. Gatonye has handled in the past include Central Bank of Kenya Versus Uhuru Highway Development Authority worth KShs 13.5 billion and Block Hotels Holdings Versus Kamlesh Pattni, again worth billions of shillings. He is currently involved in a number of litigious briefs for the Kenya Revenue Authority relating to unpaid taxes for sums of more than USD 45 million.
Established in May, 1985, Waweru Gatonye & Company Advocates has built a name for itself as one of Kenya's finest commercial practice firms.
The firm maintains a very good team of litigators and has made an impression in several important fields, including corporate/commercial litigation, conveyance & property matters and arbitration. Specializing in commercial litigation as well as conveyance & property matters, the firm provides pragmatic, solution driven services that add value to our clients' businesses.
The Firm has grown rapidly in recent years, and embraces an internal culture of motivation, commitment, enthusiasm, and reward. For our clients, their interests are paramount and with that in mind, we offer sound commercial legal services, delivered with total professional commitment. For our employees, we have created an environment of energy, expertise, reward and enthusiasm.
Our objective is to provide professional and excellent legal services and advice while remaining sensitive to the clients' needs and professional ethics. We aim at being efficient, remaining faithful to the law while sustaining professional relationships with our clients.
"Waweru Gatonye of Waweru Gatonye & Co is well known for his experience in litigation, principally in respect of tax disputes. "