Tom D. Womack
USA: Arkansas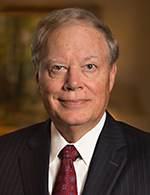 Womack Phelps Puryear Mayfield & McNeil
301 W Washington Ave
Jonesboro, AR 72401
United States
Tel: 870.932.0900
Fax: 870.932.0900
Email: twomack@wpmfirm.com
Web: www.wpmfirm.com
Tom D. Womack is a principal in the Jonesboro, Arkansas, law firm of Womack Phelps Puryear Mayfield & McNeil, P.A. His practice is limited to the areas of taxation, estates and trusts, business and corporate law, and family wealth transfer planning.
He is a Fellow of the American College of Trust and Estate Counsel, a member of the College's Professional Responsibility Committee, and has served as the College's Arkansas State Chairman. He formerly served on the Tax Specialty Committee of the Arkansas Board of Legal Specialization and is a past chair of the Tax Section and the Probate and Trust Law Section of the Arkansas Bar Association. He is an active member of the Tax Section of the American Bar Association, serving on its Estate and Gift Tax Committee and Sales, Exchanges and Basis Committee, and has authored a chapter in the ABA Property Tax Desk Book. He is listed in The Best Lawyers in America (Tax Law, Trusts and Estates) and Mid-South Super Lawyers, is admitted to practice in the U.S. Tax Court, and has been a frequent speaker on various tax, business, and other educational programs for the legal and accounting professions and for business organizations.
Mr. Womack is a Past President of the Arkansas Bar Association and Craighead County Bar Association. He is a Fellow of the American Bar Foundation and the Arkansas Bar Foundation and a member of the National Association of Bar Presidents and the Southern Conference of Bar Presidents. Mr. Womack received a B.S. degree in accounting from Arkansas State University, with distinction, and a J.D. degree from the University of Memphis School of Law. He and John V. Phelps have recently endowed the Pre-Law Center at Arkansas State University.
Bar Admissions:
Arkansas, 1972
U.S. Supreme Court, 1977
U.S. Court of Appeals for the Eighth Circuit, 1979
U.S. District Court, Eastern District of Arkansas, 1972
U.S. Tax Court, 1980
We regularly advise clients on a wide variety of federal and state tax issues including income tax, sales tax, and gift and estate tax. With our broad understanding of tax law and its complications, and with a keen insight into the incredible and often devastating impact that a tax controversy can cause, we help to provide tax counseling and guidance to avoid tax complications or controversies.
For five decades, the attorneys of Womack Phelps Puryear Mayfield & McNeil have dedicated their time and energies to a wide range of individual, business and corporate clients, both nationally and internationally.
We pride ourselves in providing the highest quality of service to our clients. Our practice areas include: Commercial Law, Business and Corporate Law, Trusts & Estates, Taxation, Litigation, Professional & Products Liability, Agriculture Law, Employment Law, Health Care, Family Law, Immigration Law, Energy and Utilities Law.