Samuel A. Lambert
USA: Utah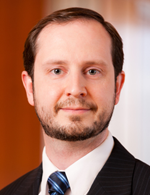 Ray Quinney & Nebeker P.C.
36 South State Street
Suite 1400
Salt Lake City, UT 84111
Tel: 801-323-3388
Fax: 801-532-7543
Email: slambert@rqn.com
Web: www.rqn.com
Mr. Lambert is a tax attorney who helps clients resolve problems with the Internal Revenue Service, the Utah Tax Commission, local County Boards of Equalization, and other administrative agencies. Mr. Lambert also advises nonprofit organizations, businesses, and individuals that need guidance regarding complex federal and state tax issues. He maintains an AV Preeminent (4.9) rating with Martindale-Hubbell, which is the highest rating awarded to attorneys for professional competence and ethics. Mr. Lambert has also been selected for inclusion in Mountain States Super Lawyers as a Rising Star (2011, 2013) in the category of Tax, and has been voted by his peers throughout the state as one of Utah's "Legal Elite," as published in Utah Business Magazine (2014-2015, 2017-2018).
Mr. Lambert represents clients in all stages of tax controversy – including audits and appeals with the Internal Revenue Service and Utah State Tax Commission, and tax litigation before the Utah State Tax Commission, U.S. Tax Court, and state and federal district courts. He works with CPAs to advance cases that benefit from the expertise of both attorneys and CPAs.
Many clients seek advice before becoming embroiled in a controversy with the IRS. Mr. Lambert counsels nonprofit and exempt organizations, businesses and individuals who have formation, compliance, and planning questions.
Mr. Lambert has taught as an adjunct professor at the J. Reuben Clark Law School at Brigham Young University, where he taught a course on taxation of corporations and partnerships, and at the S.J. Quinney College of Law at the University of Utah, where he taught a course on federal income taxation.
Prior to joining the firm, Mr. Lambert served in the U.S. Department of Justice as Counsel to the Deputy Assistant Attorney General in the Tax Division, who oversees all tax settlements and appellate tax litigation in the Department of Justice. Also, as a member of the Appellate Section of the Tax Division, he successfully handled and argued cases in federal appellate courts across the country. Immediately following law school, Mr. Lambert was a law clerk to Judge Amalya Kearse on the U.S. Court of Appeals for the Second Circuit, in New York.
Ray Quinney & Nebeker has a broad practice in both tax planning and tax controversy work. Tax planning is a natural aspect of the work done by the Firm in its business, corporate and transactional planning and mergers and acquisitions practice areas. Firm lawyers are experienced in both Federal and state tax matters, including income and franchise tax, transfer tax, sales and use tax, and property tax. Various lawyers have developed specialties in partnership, subchapter C and subchapter S tax law, as well as other areas of the Internal Revenue Code. Several of our lawyers have advanced degrees in taxation or accounting.
In addition, the Firm has a history of successful representation of clients before the Internal Revenue Service, the Utah State Tax Commission and Federal and State Courts on a wide range of issues.
Ray Quinney & Nebeker P.C. is a local full-service law firm. RQ&N was founded in 1940 by Paul H. Ray, S. Joseph Quinney, and A. Hulme Nebeker, and is one of the largest and most reputable law firms in the state. Built on a solid foundation of professional excellence, personal integrity, and collegiality, RQ&N is a recognized leader among Utah law firms, with acknowledged expertise in specialties ranging from litigation to tax, automobile dealer law to winter sports law, environmental and natural resources law to white-collar criminal defense, and many others.
Understanding our clients' unique needs lies at the heart of our approach. We take a long-term view and we take time to understand the individual demands that each client faces. We also understand that our clients require a positive and personal working relationship with their legal counsel.
Mr. Lambert graduated first in class from Columbia Law School in 2002 and was Managing Editor of the Columbia Law Review