Robert Odiachi
Nigeria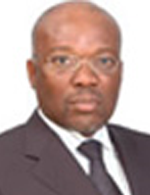 SIAO Partners
18B Olu Holloway Road
Ikoyi, Lagos
Nigeria
Tel: +234-1-4630871, 4630872, 4630867
Fax: +234-1-4630871
Email: robert.odiachi@siao-ng.com
Web: www.siao-ng.com

Mr. Robert Ade-Odiachi founded Robert Ade-Odiachi & Co. in 1987. A member of the Public Practice Section of ICAN, Mr. Ade-Odiachi has served as an international delegate to various professional accountants conferences in Europe, Asia, Australia and the Americas.
A 1981 graduate of University of Ibadan, Mr. Ade-Odiachi trained and qualified with the firm of Coopers & Lybrand in 1985. He is a Fellow of the Institute of Chartered Accountants of Nigeria (1995) and an Associate of the Chartered Institute of Taxation of Nigeria. He has 21 years of professional experience in Auditing, Accounting, Taxation and Financial Advisory Services and 19 uninterrupted years of running a practice.
SIAO Partners:
We are a one-stop shop for Audit and Assurance, Tax and Advisory services. With a professional staff strength of over 80 highly qualified and dedicated personnel, SIAO has consulted for various clients at all levels in a broad range of services including Strategic planning, Financial advisory, Project evaluation, and Financial Systems Design and Upgrade, Corporate Governance, Compliance and Human Capital Consulting
We are a member of RSM, a worldwide organisation of independently owned and managed professional service firms, providing audit, tax, consulting and specialist advisory services.
At SIAO, we believe that the approach is as important as the services offered. Thus, we have developed an approach to our briefs and projects that works spendidly both for us and for our clients, and that ensures excellent results all the time.
Our approach is characterised by the following seemingly simple steps:
We LISTEN to the client
We ASSESS the client's needs
We DELIVER function-specific SIAO solutions that meet the client's needs
We ADD VALUE by delivering more than the client expects
Our partners are ACCESSIBLE to our clients
We display the highest levels of:
• Professionalism and technical competence
• Independence
• Knowledge of the economy and our client's business
The SIAO approach ensures that our clients benefit immensely from our depth of knowledge and experience.
To accomplish more is to bring about a greater degree of result by effort. It implies courage, ambition, efficiency, and ethical standards.
At SIAO, we seek to accomplish more than our clients expect.