Reginaldo Montaño Rodríguez
Mexico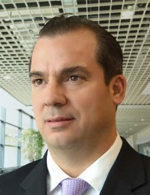 RMR Abogados
Av. de las Palmas 765-604
Lomas de Chapultepec
C.P. 11000, Mexico
Tel: (52) 55 5202 7522
Fax: (52) 55 5202 7522
Email: rmontano@rmrabogados.com.mx
Web: www.rmrabogados.com.mx
REGINALDO MONTAÑO RODRÍGUEZ. Graduated in 1993, EDUCATION: Law Faculty, Autonomous University of Baja California; postgraduate studies on Tax Law at Universidad Panamericana, Escuela Libre de Derecho, ITAM.
Attorney at law with 20 years of experience on tax matters on the private and public sector. On the private sector, have been a tax consultant and litigator of Mexican and transnational companies in regards of local and federal taxes.
Reginaldo participates on different professional association, he served as Coordinator of the Legislation and Case Law Committee of the International Fiscal Association (IFA), and Coordinator of the Tax Law Committee from the Mexican Bar Association (BMA). He also has participated as speaker on numerous forums.
On the public sector (1997-2001), was Director from the Legal Department of the Tax Policy Direction and Director from the Rulings Department of the International Tax Department, of the Ministry of Finance. Also represented such Ministry before the OECD.
On the private sector, he acted as a Tax Partner at Deloitte (Mexico City office), From 2001-2013.
As of November 2013, Reginaldo initiated its own tax law practice.
RMR Abogados is a law firm based in Mexico City whose purpose is to provide personalized legal services to our clients.
Since the end of XX century, the Mexican tax authorities have invested significant effort and resources to shut down tax avoidance and tax evasion. Additionally, Mexican courts became stricter in judging tax cases.
In this sense, for providing tax solutions it is mandatory to have a complete understanding of the client´s situation along with the highest standard of specialization.
Our Firm´s philosophy is to consider each of our clients a particular case that requires a specific solution.
Tax Defense
This includes the design and implementation of litigation strategies to defend our customers from acts by parts of the tax authorities, which occur frequently in the form of imposition of tax credits, refunds and rejection of acts prejudicial to their rights.
A custom tax defense increases the probability of success.
Tax Advice
Companies require a serious and thorough study of the tax consequences of acts performed by our customers, as they are, corporate restructurings, contracts or any other resulting from their activity. The risk of not doing so is indefensible situations face against tax authorities.
A proper tax advice is in legal certainty of the company.
Tax Planning
There are cases where it is possible to optimize tax payments, for which takes into account the particular situation of each company or group and thereby avoid widespread propose strategies. Each recommendation passes through a sieve financial and litigious, and if necessary, consult a specialist in criminal matters.
A properly substantiated tax planning allows meeting the objectives of the company and minimizes risks to the federal treasury.
Tax Authorities
The current trend is to greater scrutiny by the tax authorities, who now have to develop more sophisticated and profound audits.
Due consideration of these processes helps minimize exposure to tax credits.
Constitutional Litigation
The protection against laws or administrative acts of the authorities to oppose a useful defense against individual acts of the authorities tool.
The approach because of an injunction granted significant benefits to taxpayers.
"Reginaldo Montaño Rodríguez of RMR Abogados has been described as "an extraordinary tax lawyer" by his peers."