Lance R. Hoskins
USA: Montana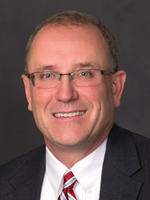 Crowley Fleck PLLP
Transwestern Plaza II
490 N. 31st Street, Suite 500
Billings, MT 59101-1288
Tel: (406) 255-7305
Fax: (406) 256-8526
Email: lhoskins@crowleyfleck.com
Web: www.crowleyfleck.com
Lance Hoskins is a Partner in the firm's Billings Commercial Department. Lance is co-chair of the firm's Tax, Trusts, Estates and Wealth Planning Practice Group. He was born in 1962 in Billings, Montana. Lance attended Montana State University and University of Montana School of Law. Prior to joining Crowley Fleck in 2011, he practiced with Dorsey & Whitney PLLP from 1987 through 2001 and then was with Brekke & Hoskins PLLC from 2002 through 2010.
Education:
1987 – Juris Doctorate, University of Montana School of Law
1984 – Bachelor of Science in Business Administration with an Accounting concentration, Montana State University-Bozeman
Awards & Honors:
Best Lawyers in America for Corporate Law, Real Estate Law, Tax Law, and Trusts and Estates (1999-present)
Best Lawyers' 2011 Trusts and Estates Law "Lawyer of the Year" in Billings
AV Preeminent Rating in Martindale-Hubbell
Mountain States Super Lawyers (2008)
Founded in 1895, Crowley Fleck PLLP is one of the oldest and largest law firms in our region. The firm has over 150 lawyers practicing from 11 offices in 3 states, including Billings, Bozeman, Butte, Helena, Kalispell, and Missoula, Montana; Bismarck and Williston, North Dakota; and Casper, Cheyenne, and Sheridan, Wyoming. While the legal profession has changed significantly since 1895, our commitment remains constant: to provide high quality legal service in a timely and cost-effective manner. Reflecting the values of our region, we enjoy the practice of law and the opportunity to provide personalized services to every client.
Crowley Fleck PLLP hires and trains the best available lawyers and staff to work with our clients to achieve their objectives. Firm lawyers practice in the following areas: commercial and insurance defense litigation, natural resources, mining and energy law, healthcare, commercial transactions, banking and finance, creditor's rights, real estate, tax, estate planning and administration, intellectual property, employment law, governmental affairs and lobbying.
This practice area addresses federal, state and local tax issues related to the healthcare industry. The areas addressed include, but are not limited to:
• IRS audits and rulings
• Tax-exempt status
• Intermediate sanctions
• State regulation of nonprofit transactions and operations
• Charitable trusts
• Tax credits
• Bond financing
• Physician and executive compensation
• Fair market value
• Joint ventures with nonprofits
• IRS disclosure requirements
• Property, sales, and use taxes
• Fundraising
• Other issues of for-profit and nonprofit matters, including IRS Section 409A
• Debt and equity financing
• Limited securities law