Karen Möhlenkamp
Germany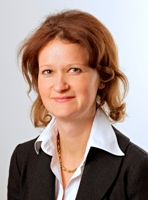 WTS Steuerberatungsgesellschaft mbH
Peter-Müller-Straße 18
40468 Düsseldorf
Germany
Tel: +49 211 20050-817
Fax: +49 211 20050-953
Email: karen.moehlenkamp@wts.de
Web: www.wts.de
Dr. Karen Möhlenkamp is Managing Partner of WTS and one of the leading experts in issues of Indirect and Consumption Tax in Germany. The German Newspaper "Handelsblatt" and Best Lawyers/USA have honored her for being one of the best lawyers of Germany in the category "Tax" yearly from 2013 on and International Tax Review has elected her as one of the Indirect Tax Leaders in Germany in 2015 and 2016.
Dr. Karen Möhlenkamp graduated in Law at Julius-Maximilians-University Würzburg and worked at the Department of International Law headed by Prof. Dr. Ranieri to pass her PhD. After being sponsored as a scholar at the Max Planck Institute (Frankfurt/M.) for European Legal History, she took up employment with an international auditing and tax consultancy firm and with the Federation of German Industry (BDI). At BDI, she addressed the key interests of the German Industry regarding the German Environmental Tax Reform, restructuring of the VAT Law Code and Local Business Tax Reform to the German House of Parliament (Deutsche Bundestag) and the Federal Tax Department and took part of legal proceedings to the Federal Constitutional Court.
At WTS, Dr. Karen Möhlenkamp`s area of attention is still on VAT, Energy tax and Energy Law. She is involved in delivering expert opinions on complex issues and developing optimization models and reaches a wide audience through numerous publications. As founding Member of the Berlin VAT Conference (Berliner Umsatzsteuertag) and German Energy Tax Conference, and as member of the German Institute of Certifies Tax Consultants (Fachinstitut der Steuerberater), she also deals with tax topics outside WTS.
She is doing charity work as managing director of the "Benedikt Niemeyer foundation– children make music" and is member of the International Lions Organisation, in 2012/2013 as president of the Lions Club Düsseldorf-Leaina.

Tax legislation is becoming increasingly complex and multi-layered. The continuing globalization and permanent new regulations hold tremendous challenges from a tax perspective. As a result, specialist consulting is becoming indispensable.
Tax consulting is one of the core competencies of WTS. Our teams consist of top specialists with many years of experience in international consulting companies, as well as in the industry and financial administration sectors. Accordingly, we ensure a very "practical approach" which enables us to provide high-quality and tailor-made services in the field of tax law. Due to our comprehensive international network, we can handle internationally significant projects with ease.
With its full-service tax consulting portfolio, WTS advises multinational groups, national and international medium-sized companies, as well as private clients and non-profit organizations in Germany and abroad.

WTS is a dynamically growing international consulting group. More than 650 employees in eight German offices together with a comprehensive global network make us one of the leading German companies in the consulting sector. With our business units Tax, Legal and Consulting we offer a comprehensive service portfolio.
We support companies of all sizes in Germany and abroad as well as institutions of all different types of legal forms. Our clients include multinational groups, national and international medium-sized companies, non-profit organizations and private clients.
In order to avoid conflicts of interest, WTS has put a clear focus on mere consulting services without any auditing.
"Local firm drawing on a strong tax background to assist with fund-related tax cases, as well as the tax aspects of investment fund structuring. Also focuses on regulatory investment advice and asset management. Active across a range of sectors, including energy and financial services."