José Pedroso de Melo
Portugal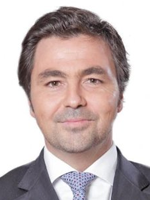 SRS Advogados
Rua D. Francisco Manuel de Melo, 21
1070-085 Lisboa
Portugal
Tel: +351 21 313 20 00
Fax: +351 21 313 20 01
Email: jose.melo@srslegal.pt
Web: www.srslegal.pt
José is currently a Managing Associate of the Tax Group at SRS Advogados.
Recognized as a Tax Specialist Lawyer by the Portuguese Bar Association. From 2011 to 2013 Partner and Head of Tax at CCA. From 2009 to 2011 was Head of Tax at Raposo Bernardo & Associados and from 2007 to 2009 was Senior Associate at PLMJ. From 2005 to 2007 was Senior Associate/Garrigues Portugal and from 1995 to 2005 was Tax Director at Mazars Portugal.
Professional Experience:
Since 2013 – Managing Associate at SRS Advogados
From 2011 to 2013 – Partner, Head of Tax at CCA – Cruz, Menezes e Associados, Law Firm
From 2009 to 2011 – Head of Tax at Raposo Bernardo & Associados, Law Firm
From 2007 to 2009 – Senior Associate at PLMJ, Law Firm
From 2005 to 2007 – Senior Associate/Garrigues Portugal
From 1995 to 2005 – Tax Director at Mazars Portugal
Education:
Post-Graudation in Tax Management at IESF (Instituto de Estudos Superiores Financeiros e Fiscais)
Degree in Law at Universidade Católica Portuguesa
The Tax Department at SRS Advogados advises clients on national and international tax law.
Services cover both the provision of everyday guidance on corporate tax issues and tax advice on specific transactions.
The firm's activity covers all principal Portuguese taxes, such as personal income tax (IRS), corporate income tax (IRC), value-added tax (IVA), excise duties, taxes on assets (property tax, inheritance tax, etc) and stamp duty, as well as international tax law.
SRS' Services Include:
Advice and guidance to companies in resolving international double taxation issues
Analysis and tax optimisation of financial sector and real estate sector transactions
Corporate restructuring and tax optimisation of investments at a national and international level
Guidance and provision of information to companies concerning amendment to tax legislation affecting their activity
Guidance to clients during tax audits
Guidance to corporate clients in complying with their tax obligations
Organisation of training on tax matters
Representation of clients in tax proceedings and tax disputes
Taxation of remuneration and payments made to employees and service providers
Criminal-tax and misdemeanors´ procedures
SRS Advogados is a leading firm in the Portuguese legal market. From the outset we have maintained a tradition of innovation.
In 1992, we were pioneers in foreseeing the challenges of globalisation and were the first Portuguese law firm to join an international alliance.
Today, we continue to lead the market in creating value for our clients through our strategy of focus and specialisation. We always seek to exceed expectations.
"Clients admire José Pedroso de Melo's work, saying: "It's a pleasure to work with him. He is sincere about the issues and always available. A person who we can trust." He handles both Portuguese and international tax law."