Joel V. Williamson
USA: Illinois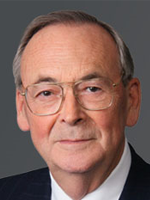 Mayer Brown LLP
71 South Wacker Drive
Chicago, Illinois, USA
IL 60606-4637
Tel: +1 312 701 7229
Fax: +1 312 706 9204
Email: jwilliamson@mayerbrown.com
Web: www.mayerbrown.com
Joel Williamson is widely acknowledged as one of the nation's leading tax attorneys and litigators. He has litigated over 60 tax cases. His experience includes the trial of six major IRC § 482 transfer pricing cases, including Eli Lilly, G.D. Searle, Westreco (Nestlé), Seagate Technology, National Semiconductor, and United Parcel Service. Presently, Joel is serving as lead trial counsel in Guidant LLC and Eaton, two cases involving IRC § 482 issues. Joel has also litigated numerous cases involving economic substance of transactions, including the United Parcel Service case noted above, as well as the Saba Partnership (Brunswick) case, and Mukerji (Comdisco), an important test case for tax-advantaged computer leasing transactions involving Comdisco. More recently, Joel Litigated ConEd which involved an international Lease-In-Lease-Out transaction and Flextronics which involved an international merger and acquisition transaction. Both ConEd and Flextronics witnessed IRS arguments of economic substance and generic tax doctrines including substance over form and step transaction.
In the international tax area, Joel has litigated Subpart F, constructive triangular dividend, R&D Moratorium, Brazilian and other foreign tax credit for banks, including Bankers Trust and Riggs Bank, as well as Iranian loss investment in U.S. property (IRC § 956) and foreign-versus-domestic-source income (IRC § 863(b)) questions. He has litigated two significant captive insurance cases involving Humana, Inc. and Gulf Oil Corporation. In addition, Joel has litigated IRC § 338 corporate acquisition related issues, including goodwill, intangible and inventory valuations and second-tier allocations involving Nestlé's acquisition of Carnation.
Joel litigated the Tribune Company case, which dealt with whether a divestiture of a subsidiary qualified as a tax-free corporate reorganization. He has litigated significant tax accounting issues, including unbilled revenue and cap interest rate loan questions. Joel has also litigated significant procedural questions, including the proper role of IRS trial counsel in the audit examination process. He is also experienced in summons enforcement actions for both foreign and domestic records.

The breadth of Mayer Brown's Tax practice is matched by few other law firms. Our Tax practice covers every aspect of corporate, partnership and individual taxation in the United States and in Europe, including taxation of cross-border transactions and state and local issues. Our subpractices include transactions, consulting and planning, audits, administrative appeals and litigation, transfer pricing and government relations.
We also have a highly regarded appellate tax practice, representing taxpayers before the US Courts of Appeals and the US Supreme Court. Mayer Brown's tax litigators have tried cases resulting in precedent-setting actions. We are consistently ranked in the top tier by both Legal 500 US and Chambers USA and our lawyers are routinely recognized as leaders in their field.
With offices throughout the Americas, Asia and Europe, Mayer Brown offers the depth, knowledge and experience to manage every tax challenge.

Mayer Brown is a global legal services provider advising clients across the Americas, Asia and Europe. Our geographic strength means we can offer local market knowledge combined with global reach.
We are noted for our commitment to client service and our ability to assist clients with their most complex and demanding legal and business challenges worldwide. We serve many of the world's largest companies, including a significant proportion of the Fortune 100, FTSE 100, DAX and Hang Seng Index companies and more than half of the world's largest banks. We provide legal services in areas such as banking and finance; corporate and securities; litigation and dispute resolution; antitrust and competition; US Supreme Court and appellate matters; employment and benefits; environmental; financial services regulatory & enforcement; government and global trade; intellectual property; real estate; tax; restructuring, bankruptcy and insolvency; and wealth management.
"Joel Williamson continues to be seen as a "go-to" attorney for high-stakes tax controversies. He recently played a central role in the successful representation of Tyco International on a cross-border intercompany debt case in the US Tax Court. The matter regarded almost $10 billion in interest paid over a ten-year period to a finance company in Switzerland connected to the client."