H. David Rosenbloom
USA: DC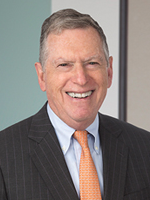 Caplin & Drysdale
One Thomas Circle, N.W.
Suite 1100
Washington, D.C. 20005
Tel: +1 (202) 862-5037
Fax: +1 (202) 429-3301
Email: drosenbloom@capdale.com
Web: www.caplindrysdale.com
H. David Rosenbloom is a Member in Caplin & Drysdale's Washington, D.C. office. He rejoined the firm in 1981 after serving as International Tax Counsel and Director of the Office of International Tax Affairs in the US Treasury Department from 1977 to 1981. In 2013-2014, Mr. Rosenbloom was recognized as a "Leading Lawyer" by Chambers USA and The Legal 500 for his work in International Tax and Tax Controversies.
Services
Mr. Rosenbloom's major areas of practice include international tax planning and controversies, including transfer pricing and advance pricing agreements, the foreign tax credit and subpart F, tax treaty issues and competent authority proceedings, financial products and financial institutions, taxation of all forms of inbound investment, and individual tax compliance in a cross-border context.
Highlights
Mr. Rosenbloom has served as a Tax Policy Advisor for the US Treasury, the OECD, US AID, the International Monetary Fund, and the World Bank in Eastern Europe and the Baltic countries, the former Soviet Union, Senegal, Malawi, and South Africa. He has consulted with and advised foreign governments and international organizations on international tax matters, and served as an expert witness in international tax disputes in the United States, Canada, and New Zealand.
He has also written extensively on international and comparative tax topics. His most recent writings discuss the Foreign Account Tax Compliance Act, foreign tax credit generator transactions, and the saving clause in the U.S. tax treaties.
Mr. Rosenbloom is fluent in French and Italian and has fundamental knowledge of Spanish.
For half a century, Caplin & Drysdale has been a leading provider of a full range of tax, tax controversy, and related legal services to companies, organizations, and individuals throughout the United States and around the world. With offices in New York City and Washington, D.C., the firm also offers counseling on matters relating to bankruptcy, complex litigation, corporate law, creditors' rights, employee benefits, exempt organizations, political activity, private client services, and white collar defense.
Our ranks include former senior staff from the Internal Revenue Service, the U.S. Treasury, the Federal Election Commission, and the Justice Department. Their substantial technical skill and considerable knowledge on how laws are made and administered, illustrate our commitment to serving clients in a holistic and solution-oriented manner.