Gary P. Tober
USA: Washington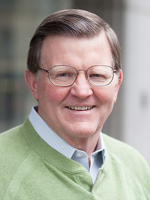 Garvey Schubert Barer
1191 Second Avenue
18th Floor
Seattle, WA 98101-2939
Tel: +1 206. 816.1415
Fax: +1 206.464.0125
Email: gtober@gsblaw.com
Web: www.gsblaw.com
Gary P. Tober has been practicing law for over thirty-five years. His practice encompasses business, transaction and international tax advice. Gary advises U.S. and foreign corporations, partnerships and individuals in tax and business planning matters. He regularly consults with clients on the potential tax implications for cross-border operations and investment transactions for a variety of companies ranging from fruit growers, durable goods manufacturers to foreign-based technology companies.
In addition to counseling clients on the tax implications of business and investment transactions, Gary also consults and renders U.S. tax opinions to foreign governments and foreign pension funds investing in U.S. corporations, start-up enterprises and real estate located in the United States. Prior to joining Garvey Schubert Barer, Gary was chair of the Tax Practice Group and Canada Practice Group at Lane Powell.
He serves as an adjunct professor for the University of Washington School of Law Graduate Program in Taxation and Golden Gate University School of Taxation, and his opinion is frequently sought on important tax issues. For example, Gary provided testimony before the Ways and Means Committee of the House of Representatives on taxation of electric commerce.
Our Tax Group is dedicating to helping clients minimize risk and maximize tax benefits. We work closely with our clients to develop strategies and solutions reflective of their business objectives and assist in a wide range of tax matters – from structuring complex transactions to resolving tax controversies and valuation disputes.
GSB regularly helps individuals, closely held companies, publicly traded companies and nonprofit organizations in matters involving:
Corporate, partnership and individual tax planning and advice
Business formations, reorganizations, distributions, redemptions and liquidations
Structuring mergers and acquisitions, joint ventures and other business transactions
Real and personal property taxation, as well as real estate transactions and personal property exchanges
Obtaining private letter rulings or technical advice from the National Office of the Internal Revenue Service and state and local tax authorities
Tax aspects of debt relief and bankruptcy, including debt workouts
Tax consequences incident to civil litigation
Sales and use taxation
Employee benefits and executive compensation planning, documentation and operational compliance
Federal, state and local civil tax legislation
Representation in criminal tax investigations, appeals and trials
Opinions and testimony on tax legislation at the federal, state and local levels
Tax consequences incident to divorce
Operating from five strategic locations — Beijing, New York, Portland, Seattle, and Washington, D.C. — Garvey Schubert Barer represents clients locally, nationally and internationally, with a special focus on the Pacific Rim. We provide practical, client-centered solutions to established market leaders, newly launched enterprises, athletes and entertainers, and governmental bodies.
"Gary Tober is sought out by technology companies, pension funds and investors for his expertise in international tax matters and corporate and finance transactions. He represents clients from a broad range of sectors, including technology and manufacturing."