Emmanuel Chauve
France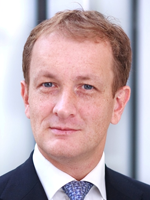 De Pardieu Brocas Maffei
57 avenue d'Iéna - CS 11610
75773 Paris Cedex 16
France
Tel: +33 (0)1 53 57 65 22
Fax: +33 (0)1 53 57 71 70
Email: chauve@de-pardieu.com
Web: www.de-pardieu.com
Emmanuel Chauve intervenes in business and property tax, in a national as well as international background. His practice also includes specific matters such as real estate tax, SIICs and real estate investment funds.
Admitted to the Paris Bar in 1993, Emmanuel Chauve holds an advanced degree (DESS) in tax law from the University of Bourgogne (1989) where he now teaches international tax law.
He joined De Pardieu Brocas Maffei as a partner in 2005.
He is also co-author of several articles in his practice areas such as "La fiscalité des sociétés d'investissements immobiliers cotées", Paris, EFE, 2006 and he was a lecturer for the "Real Estate Chair" of HEC – Unibail-Rodamco – Morgan Stanley.
The Firm's tax team, one of the most famous in Paris, advises on both French and international tax issues.
The team has developed longstanding relationships with a diverse client base, including French and international corporations, banking and financial institutions, investment funds, and family-owned companies.
Founded in 1993, De Pardieu Brocas Maffei is one of the leading Paris-based business law firms with an international reach. The Firm currently has more than 130 lawyers, including 33 partners.
De Pardieu Brocas Maffei offers its clients a global service that combines synergies between its teams and strong working relationships with its referral firms abroad.
The Firm's clients include many major French and international industrial, financial and service corporations.
The Firm's success is the result of its ability to provide creative and sound advice, tailored to client needs, in connection with large and complex transactions.
"Emmanuel Chauve focuses on tax issues arising in the corporate and property sectors. He has further skills in real estate tax and real estate investment funds. He is active at both national and international levels."