Denis Schekin
Russia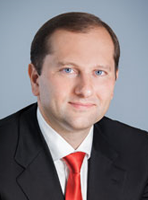 Schekin & Partners
6, bldg. 2, Nizhny Kislovskiy Lane
125009, Moscow,
Russia
Tel: +7 (495) 984-63-01
Fax: +7 (495) 984-63-01
Email: d.schekin@schekinlaw.ru
Web: htttp://www.schekinlaw.ru
Work Department
Tax disputes and tax audit support, Tax structuring and risk assessment, Transfer pricing.
Position
Managing Partner
Denis has expertise in tax law, including tax disputes and tax consulting.
Denis has advised companies and handled tax disputes since 1995. He has represented Russian and multinational clients in court, challenging additional tax assessments worth hundreds of billions of rubles.
According to the Best Lawyers, Chambers Europe, the Global Legal Experts, Tax Directors Handbook, European Legal Experts, etc. Denis is ranked as one of the top Russian tax specialists.
Denis is the author of books and publications on tax and is one of the most prominent speakers on tax topics.
Denis PhD in Judicial Sciences and lectures in financial law at the Lomonosov Moscow State University.
Tax advice is a priority for Schekin & Partners. The associates of Schekin & Partners have extensive and diverse experience from assessing the tax implications of business transactions to developing and implementing tax accounting policies and practices.
Schekin & Partners provides full legal support in tax controversies of any complexity, including disputes relating to VAT refunds, foreign company taxation and tax exemptions.
The Tax Law Practice of the Firm has diverse experience applying the new transfer pricing rules, including drafting pricing agreements with the Federal Tax Service of Russia and developing transfer pricing reports to demonstrate that our clients' actual prices are in line with fair market prices.
Schekin & Partners helps industrial production, services, IT, construction, trading, telecommunications, banking and financial companies resolve complex tax-related tasks.

Schekin & Partners specializes in tax, commercial law and various types of litigation.
The firm provides legal advice to leading Russian and multinational companies in oil & gas, metals, food products, automotive, construction, transportation, IT, banking, wholesale & retail and other industries.
Schekin & Partners provide superior services with depth of knowledge and wealth of experience.
The professionals of Schekin & Partners follow a rigorous program of professional study, read all key publications on tax, civil law, court rulings and official guidance.
The firm leverages its established connections with leading Russian universities to obtain expert opinion on the most complex problems relating to any branch of law.
"Described by peers as "brilliant," Denis Schekin of Schekin & Partners is widely regarded as a skilled and experienced practitioner. He holds capabilities in both litigation and advisory work, particularly in the financial services sector."